Bets4all.com -

get your free Quicktip- Bonus !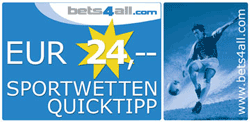 Use this opportunity and get a Free bets4all Quicktipp-Bonus worth 24 Euro - It's your chance to win 25.000 Euros in cash!
How does it work?
1. Send us an email to tippspiel@liga-pokal.de with precise information on your Liga-Pokal.de user name. Important (!) subject of your mail: "Quicktipp-Voucher"
2.Now use this link: Bets4all.com - Registration to register yourself with bets4all.
3. After we have send you the bonus code, take the following steps to cash in the Quicktipp-Bonus at bets4all:.
First log onto your bets4all account, clicking on the "account" button, followed by

"vouchers

", will lead you to the required bonus form.

Use this form to plug in your QUICKTIPP CODE, including all numbers and dashes!
Now the bets4all system will immediately generate your own personal Quicktipp receipt. ..and we will hold thumps that you'll be one of the luck winner to receive 25.000 Euro! ;-)
Please note, that each user can cash in only ONE Quicktipp-Voucher!

Further Questions?

Please use this link to our forum where we gladly answer your questions.

Es gelten

den

die

Allgemeinen Geschäftsbedingungnen der Online Service bets4all GmbH.